The University Art Collection provides students opportunities for direct engagement with original works of art while cultivating an environment that creates dialogue, fosters creativity, and promotes interdisciplinary thinking.
Our Goals
Support the pedagogy of the University and the education of Wake Forest students with object-based learning that informs and enriches curriculum.
Acquire, preserve, interpret, exhibit, and otherwise make accessible works of art for the benefit of a variety of audiences, in support of the interdisciplinary educational goals of the University and for the benefit of the community at large.
Exhibit contemporary artworks manifesting a range of concepts, styles, media, and a diversity of artists (gender, race, perspectives) whose work informs, inspires and challenges our students, the University, and the community to see the world anew.
Serve as a dynamic teaching and learning resource for faculty, students and the community.
Diversity and Inclusion
Wake the Arts believes the arts belong to all of us. In order for that to be true, the visual and performing arts community at Wake Forest is committed to developing policies, programs, performances, events, and communication strategies that are inclusive and welcoming to all students, faculty, staff, and our greater community. We are dedicated to transforming lives through the powerful impact of the Arts and we affirm the representation of diverse voices and perspectives in our work. We stand with the Black Lives Matter movement and acknowledge that equity across race, gender identity, and sexual orientation is critical for all of us to thrive. We commit to elevating this diversity in our coursework, in our exhibition spaces, in the performances we create in our theatres and concert halls, and throughout our creative research and scholarship.
Land Acknowledgement Statement
This statement honors the land on which Wake Forest University now resides and the land on which the original campus resided. This land served for centuries as a place for exchange and interaction for Indigenous peoples, specifically Saura (saw-ra), Catawba (ka-tah-buh), Cherokee (chair-o-kee), and Lumbee (lum-bee) in this location and Shakori (shu-kor-ee), Eno (ee-no), Sissipahaw (sis-suh-pa-hah), and Occaneechi (oak-a-nee-chee) in the original campus location. Today Wake Forest continues to be a place of learning and engagement for Indigenous students, faculty, and staff regionally, nationally, and globally.
Get in touch
---
Address
Office of University Art Collections
PO Box 7232
Winston-Salem, NC 27109
Phone
336.758.3069
Fax
336.758.6014
Email
artcollections@nullwfu.edu
Office Hours
Monday-Friday, 9 a.m.-4 p.m.
Please schedule an appointment
---
Staff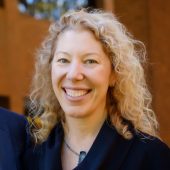 Jennifer Finkel
Acquavella Curator of Collections
she/her
Office of University Art Collections
336.758.5082
finkelj@wfu.edu
Jennifer Finkel is the Acquavella Curator of Wake Forest University's Art Collections. Finkel studied art history at Georgetown University and received her doctorate in Renaissance art at Case Western Reserve University. Since 2005, she has been working in the world of contemporary art, building collections, commissioning artists for public spaces and caring for existing collections.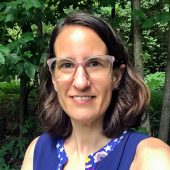 Jessica Burlingame
Collections Manager
she/her
Office of University Art Collections
336.758.3069
burlinjo@wfu.edu
Jessica Burlingame is the Collections Manager of the Office of University Art Collections. She studied Anthropology at Edinboro University of Pennsylvania and received her MA in European History/Museum Studies from UNC-Greensboro. She has been working at Wake Forest since 2007.
Policies
---
Click below to read our Statement of Policies.